Amazon FBA has many fees that can vary from business to business, which can be hard to navigate at first, especially when your business is new to FBA. However, we have created a guide to these fees, plus tips on how to keep the costs down, to make your life easier!
For more established businesses, the flat fee is £25 for an Amazon FBA Professional account. This includes the selling of 35+ items per month, product advertisement, top placement for your products and the selling of products in a restricted category. 
If you are a smaller business, the Amazon FBA Individual account is £0.75 per product sold but does not include advertising, top placement or the ability to sell products in a restricted category. 
Before going into Amazon FBA, consider both options and think carefully about your products and if they're suitable for FBA.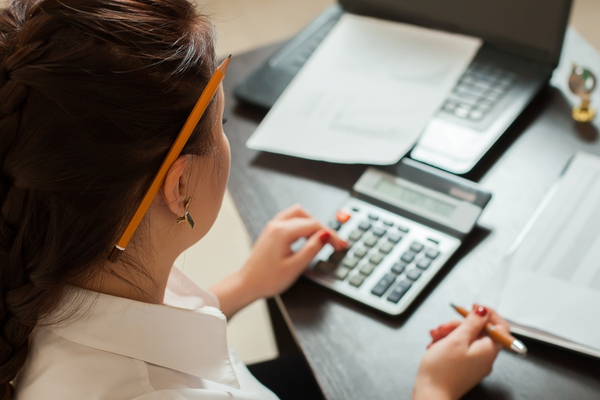 The cost of Amazon FBA per business and product varies, but everything is subject to these fees.
For example: 
Refund fees

Product dimension fees 

Storage fees
The category your item is listed in has a great deal to do with what fees you will pay, so when doing this for your business or product choose wisely. A great tool to find out what your selling costs will be for a specific item is the Amazon Sellers App. Simply scan the barcode of the item and it will tell you the fees that the specific product comes with, meaning you can know exactly when you will make a profit or not. 
If your product is newer then measure your item and use the Amazon FBA rate card as a guide.
Refund and Return Fees: 
Refund fees are standard as part of Amazon selling and every seller on Amazon (not just FBA) is subject to this fee. 
Usually, you will be charged 20% of the refund amount, or £5, it just depends on which is cheapest. You will always pay for the cheaper option of the two. Amazon charges for returns to cover the costs of the fulfilment fees that they will have incurred for the individual unit. 
How to avoid return fees: 
Seems obvious, but to avoid return fees, you have to avoid returns from your customers altogether. To do this keep your product descriptions accurate and images updated regularly, to avoid bad reviews and returns when a customer does not get the product that they had been expecting. If you are selling clothes, use a size guide in the images to help avoid returns for clothes that do not fit or are not as expected by the customer. The fewer surprises the better.
Product Dimension Fees: 
Product dimension fees depend on the literal dimensions of your products; the size, weight and shape contribute far more than you think, whether they're big or small. 
The full list of fees for products of all different dimensions is listed here, however, this can change so remember to keep up to date with FBA fees and your product's dimensions if they change. 
Another great tool is the Amazon FBA fee calculator, which can also tell you what sort of revenue you will make on your sales. 
How to keep product fees down:
Although it can be difficult to keep product fees to a minimum once you have your product, the best ways to keep your product costs to a minimum are;
Estimate the costs before you buy:

Before you actually choose your product, find out all of the dimensions and weights, and use the fee calculator to estimate the cost. Then if it is out of your budget, try a different version of the same product. 

Bundles:

Selling items in a bundle will keep costs down as you are not selling them individually with individual costs, just the costs for the bundle which has multiple products.

Be specific:

Only send Amazon the particular products that will sell or that you know are guaranteed to do well, so you don't have inventory that has fees attached that isn't selling at all. 
Keep on top of Amazon's Fees as they are known to change, keeping up with this will avoid nasty surprises for you and your business. 
Storage Fees:
Storage fees are the cost of Amazon keeping your inventory in their fulfilment centres/warehouses for both short and long terms. You will be charged a fee each month and this will only be charged if you have inventory there, if not there will be no charge. This fee depends on how much space your inventory is taking up, in cubic feet. The more space you use, the more expensive the fee. 
You will incur an additional long-term fee if your inventory does not sell within a certain period, which means that you need to be specific about which products you send to the fulfilment centres as if they do not sell, you will be charged even more. After 12 months the long-term storage fee begins which will be on top of what you are already being charged. 
How to keep storage fees down: 
Send specific:

By making sure you're only sending what you know will sell to the fulfilment centres, you will avoid long-term storage fees. 

Flash sales:

By utilising flash sales or discounts, your products that are being left behind at the fulfilment centre should get a boost to get sold, meaning you have reduced fees as your products won't take up as much space for a short time. 

Restock regularly:

Similar to sending specific items, restock regularly to make sure that you never take up too much space for too long but are always restocking when needed. 

Reprice your items:

By repricing your items to be slightly lower, your products will be more appealing to customers who are looking for a deal and they will sell faster, reducing your storage fees.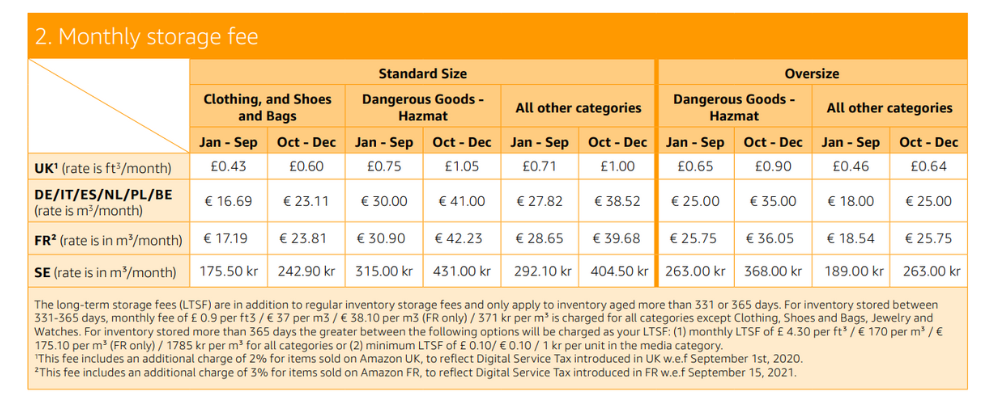 FBA Shipping:
Amazon FBA takes away the need for businesses to pay for shipping, store, pick, pack, and ship the items which means less hassle for your business, as everything gets done for you. 
Most of the time, Amazon FBA turns out cheaper than shipping, packing, picking and storing your items on your own through different couriers etc, so to keep costs down as a business utilizing FBA makes sense for many sellers. 
Amazon FBA fees will be difficult to navigate at first, especially as a new business, however as long as you keep your business up to date and regularly edit different aspects of your business to keep the costs down, you will do just fine!

If you want to know more about setting up an Amazon FBA business and skyrocket your sales, get in touch with us today at Seller Presto! We are experts in Amazon Marketing and consultancy and pride ourselves on helping businesses like yours thrive, so what are you waiting for? Contact us now!