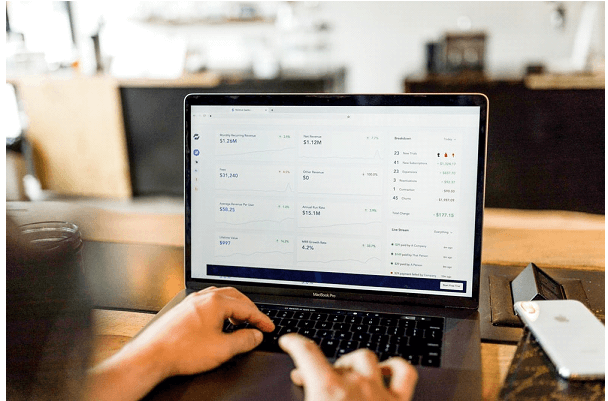 Want to know more about Amazon PPC management and what it's like to be a PPC manager? Here is a guide about what paid marketing entails, how we achieve it, and what you can expect from your Amazon marketing agency.
If you've heard of PPC but you're not too sure what it is, or how it can benefit your business, this post will give you the inside track. It's an extremely dynamic and rewarding role here at Seller Presto, as it allows us to measure the impact of our work. This means we can deliver trackable results and analytics, ensuring total transparency for our clients.
According to Amazon's own data, 70% of searchers never click past the first page of results, and 64% only take an interest in the top three results. As an Amazon PPC agency specialist, my job is to get your products seen. It's a practically-guaranteed way to boost traffic and sales (providing your products and listing are up to scratch). So if you're expanding your distribution channels to this platform, stick around to find out more.
What is PPC?
While it's a phrase that many people are familiar with, not everyone knows what PPC actually means. The abbreviation 'PPC' stands for Pay Per Click, and it applies to a number of advertising providers. Effectively, Pay Per Click means you pay the platform (whether it be Amazon, Google or Bing) every time someone clicks on your ad.
By clicking on the advert, they will be directed to your website or Amazon product page, driving relevant sales traffic your way. This technique is different to SEO (Search Engine Optimisation) because it puts your ad in the results almost instantly. While SEO combines multiple techniques and long-term optimisation work for organic results, ads are a quick way to get your products out there.
This makes PPC a valued and effective way to increase brand awareness, with good (and easily measured) ROI. However, in order for your PPC campaign to work effectively, regular maintenance is required, and this is where my role comes in.
How can Amazon PPC marketing increase your sales?
Just like other advertising platforms, Amazon's own ecosystem can be manipulated through sponsored products. You pay money to get a premium position with the specific keywords you want to target, with auction style bidding to push out competitors.
If you're wondering whether it's worth the investment, the answer is a categorical "yes". In fact, it's not really an option anymore if you want to increase your bottom line. Amazon sellers who aren't running sponsored ads are unlikely to get their products in the top spot. That's what makes Amazon marketing services such a vital cog in the wheel. And with 66% of all product searches starting on Amazon (not Google), it's time we saw the platform for what it is; not just a shopping site, but a search engine.
What exactly does an Amazon PPC Management specialist do?
A day in the life of a PPC manager is varied, with a range of campaigns to manage, and across various industries. For me, each day begins with checking through my emails, answering client queries and general housekeeping. This is followed by a review of individual PPC accounts, including a deep dive into successes, changes and things that simply aren't working. It's our mission to deliver value for the client, so if something isn't achieving results, we'll identify the problem and tweak it accordingly.
Managing PPC accounts usually involves continuous ad testing, in-depth keyword research, competitor analysis, plus regular reporting and scoping. With every PPC client, I will have a set of agreed targets and KPIs to aim for, so monitoring and keeping clients in the loop is a big part of my working week.
As well as Amazon Sponsored Products, my work demands deep knowledge of Amazon Sponsored Brands, Amazon Product Targeting, Google Analytics and conversion tracking, and many other digital skills. With accreditations from all major platforms, we provide clients with confidence and peace of mind at Seller Presto.
Our team of marketing experts have diverse experience and work collaboratively to maximise your online exposure, helping with everything from the setup of your store to professional copy for your listings. This gives us the commercial and technical edge to build the right PPC strategy to align with your brand, your products, and your revenue goals.
What happens in Amazon's PPC strategy development?
While PPC can be a standalone service, it performs best alongside other marketing techniques, and that's why we aim to create a wider strategy. Amazon PPC management isn't going to give you the conversions you're after if your product pages are sloppy, so we will advise on the best way to make your listing shine and offer a quality listing creation service.
In addition to PPC management, we do full reporting. In our monthly reports to clients, we highlight the following:
⦁ Any work done to improve the account
⦁ Wins and positive metrics (such as impressions, clicks, conversions and ad performance)
⦁ Losses (with analysis and suggestions for improvement)
⦁ Plans for improving the account going forward
It's also our responsibility to be at the forefront of industry trends, so we stay abreast of algorithms, trends and new platform features. My role consists of in-depth research in order to deliver Amazon marketing services to the highest standards. Things are fast-moving in this industry, and that means no two days are ever the same.
One day, everything is running smoothly, and the next you feel like a digital firefighter. Having said that, I very much enjoy what I do, and we try to make projects as fun and enjoyable as possible at Seller Presto!