Amazon provides an unparalleled opportunity for individual sellers and businesses looking to increase their profit margins. 
As one of the world's largest online marketplaces with over 300 million active customer accounts and 1.9 million selling partners globally, Amazon's marketplace provides a platform for millions of businesses looking for additional channels to engage with their target audiences.
It's important to note that success at the business level in Amazon's e-commerce market is not random and requires targeted strategies to succeed. 
If you're currently struggling to achieve the results you want, don't worry – it's not too late to turn things around. 
This piece outlines proven steps to increase your sales on Amazon quickly and effectively. Let's get started!
Optimising Product Listings
One of the quickest ways to increase sales performance on Amazon is by tweaking how you list your products with poorly-crafted listings often leading to low-performing sales. This has to do with the Amazon A9 algorithm and how it ranks the various products on the marketplace, a crucial factor for businesses when driving product visibility and sales.
Whether you're new to selling on Amazon or a veteran, it's important to understand the significance of the A9 algorithm. A sophisticated ranking system –  not too dissimilar to how Google's search algorithm ranks and classifies web pages –  evaluates billions of products to determine their relevance to customer searches.
Below we discuss how Amazon SEO can help to achieve improved product listing performance.
Discover the Power of Amazon SEO
By optimising and applying known Amazon A9 algorithm ranking factors, you're attempting to comply with – and 'win favour' from – the Amazon A9 algorithm, which ranks products based on their relevance to customer searches. 
Steps that you can take include:
Using the right keyword
To optimize your Amazon product listings and increase visibility, effective keyword research is crucial. The search bar enables customers to input keywords relevant to their search query which when actioned, returns a series of results that best match the search query. 
The world is on the brink of a 'search' revolution with LLMs (large Language Models) opening the world up to AI-based vector-styled search, a potential game-changer (think Chat GPT). Until then, keyword-based search engines like Amazon depend on keywords to classify products in their database.
By incorporating relevant target keywords into your product titles and descriptions, you provide Amazon with context as to what your product is, immediately improving your chances of being seen by potential customers.
There are several ways that you can find relevant keywords. These include: 
Taking a look at the Amazon search box

Checking out related item suggestions

Analysing the product titles of your top competitors

Using various keyword research tools that we discuss below

Allowing your

Amazon account management service

to research ideas you might have
When adding keywords to your listings, it's essential to ensure that your keyword usage sounds natural and isn't repeated excessively, something termed as 'keyword stuffing' amongst the SEO community.
By conducting proper keyword research and integrating relevant keywords into your product listings, you enhance your product's visibility and increase the likelihood of a prospective customer clicking on your product listing.

Optimise Your Product Title
Amazon allows for a product title length of 200 characters. Seller Presto encourages its clients to use as many of the 200 characters as possible on the understanding that this is the first chance to make an impression on potential customers.
Remember that targeted keyword research we did in the previous step, well it's time to add a relevant, head keyword in the first 80 characters of your product title. You can incorporate more than one keyword, just make sure that they are applicable.
When optimising the remainder of your product title, don't capitalise the whole thing, the first letter of each word is fine.  Moving on, make sure to include the brand, product's colour, size, and number of units. 
If you have space, try and answer any relevant queries that your target customers might find useful i.e. product compatibility, waterproof, cord length etc.
It's important that your product title gets straight to the point whilst providing only necessary information.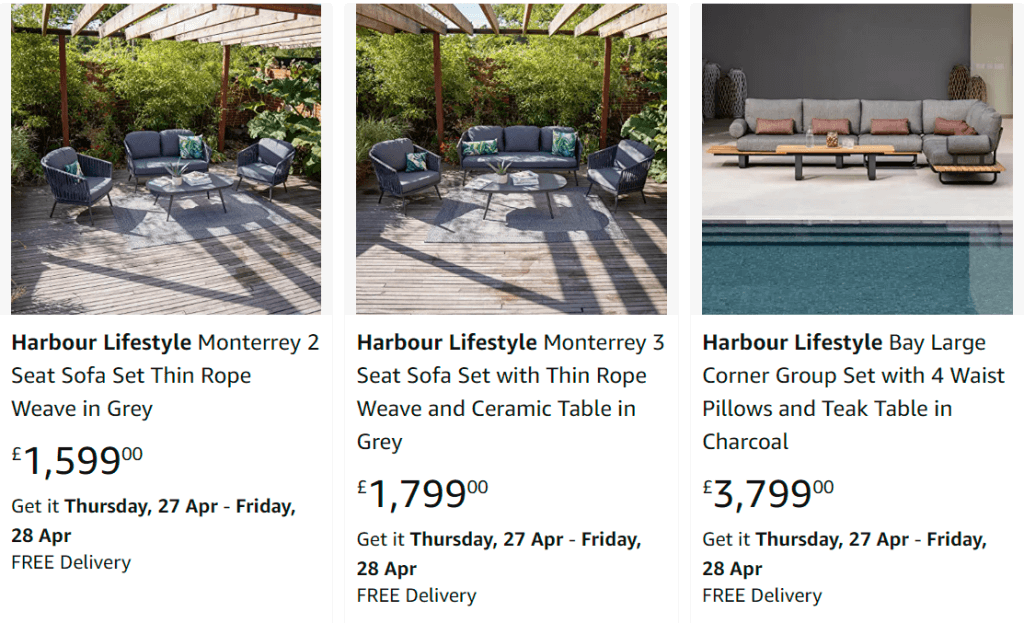 Description: Upmarket furniture retailer Harbour Lifestyle demonstrates the correct way to craft a product listing title
Attract Customers With Catchy Product Descriptions
When it comes to optimising your Amazon product listings, catchy product descriptions are key to attracting potential customers. You want to make sure that any unique features are highlighted whilst narrowing in on the benefits of your product. Finally, you want to create urgency, something that will inspire potential customers to make a purchase.

To create effective product descriptions, start by brainstorming the most important features and benefits of your product. Use this information to craft a clear and compelling description that highlights what makes your product stand out.
But why stop there? Make sure your description also appeals to your target audience by using emotive language that is engaging and relatable. Use descriptive adjectives and calls to action that evoke emotion and encourage customers to take action.
Finally, and this is an important point, don't forget to proof and edit your product descriptions for grammar and spelling mistakes! A well-written and polished product description can make all the difference when making your Amazon listing stand out. Poor grammar and spelling mistakes give the impression of poor quality.
By taking these steps and putting effort into crafting compelling product descriptions, you can attract more potential customers and increase your chances of making a sale.
Use Quality Images and Videos
The images and videos used on your product listings can be the difference between a high conversation rate or stratospheric bounce rates.
When taking effective images and/or creating in-depth product videos, it's essential to invest in high-quality equipment and take the time to capture your product from multiple angles. 
Using natural lighting and ensuring that your images and videos are visually appealing, are key features when making your product stand out amongst your competitors on Amazon.
So you've got the perfect images and videos in mind, but how big should they be?  When it comes to images and videos – size does matter! 
Amazon recommends using images that are at least 1000 x 1000 pixels or larger in either height or width. Not only can your prospective customers zoom in on your product but it also enhances their overall shopping experience. Remember, Pixelated images are a big no-no.
If you're ever confused as to image size requirements or the types of images that are acceptable, fear not. Amazon has compiled a seller's guide regarding the types of images & videos that can be used on their platform which you can find here. Make sure to familiarise yourself with these guidelines to ensure the best results moving forward.
Spending extra time on creating high-quality images and videos can make all the difference. Remember, you're operating in a saturated marketplace, going toe to toe with competitors… you need to stand out!
To recap, following Amazon's seller's guide, upgrade your photography equipment and provide as unique a user experience as possible.
Leverage Amazon's Enhanced Brand Content (EBC)
Enhanced Brand Content (EBC) is an Amazon feature that allows product listings to contain explanatory images. Such images have a better chance of catching a customer's attention than the usual kind of image. 
EBC also allows you to feature bullet points in brand descriptions. These bullet points provide better organisation of product data. 
EBC is available in Seller Central. So take advantage of this feature using these steps; 
Log into your Seller Central account 

Click on the Advertising section to reveal a drop-down menu

Click on the A+ Content Manager

Click on "Start Creating A+ Content"
Don't fret about the price. EBC is free.
Use Backend Keywords
These are keywords that aren't visible to your page viewers but provide the opportunity to enhance product discoverability. 
To input backend keywords, take the following steps.
Login to your Seller Center account

Visit the inventory lab and find the "Offer"  tab

Click on "Keywords" to access the section for hidden keywords.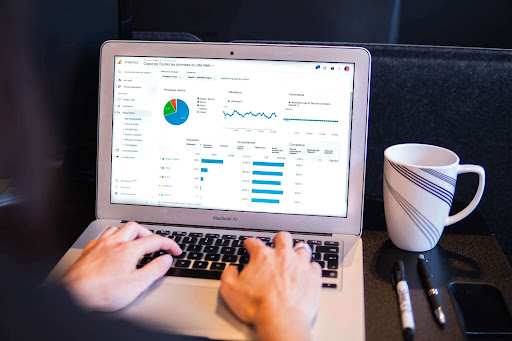 Don't Be Afraid to Use Technology
To increase your sales on Amazon, it's important to make technology your ally. Leveraging technology can simplify and accelerate the process, ultimately boosting your profitability.
Based on the very size of the Amazon marketplace and the money involved, it's no surprise that there exists a range of Amazon-specific tools out there that aim to give you a competitive edge, automate cumbersome tasks, and provide mountains of data at your fingertips. 
An example of such a tool is Helium 10, a market-leading eCommerce suite that helps you grow your eCommerce empire on Amazon.
Find the right keywords for your products, explore their reporting suites, automate your refund process, optimise your product listings and more.
There are multi-suite tools like Helium 10 that solve a range of Amazon challenges, and there are tools that are focused on specific tasks. Below, we suggest a range of tools that can help with varying tasks.
Listing and Keyword Optimization Tools
When prospective customers search for products, you want to be at the top of their search results. Listing and keyword optimisation tools can help with the heavy lifting. 
Tools like Helium 10, Viral Launch, Jungle Scout, and MerchantWords are great options to help with listing and keyword optimisation. 
These tools will help you research the most applicable and high-performing keywords for your product listing. They will ensure that every component of a product listing, such as videos, images, and descriptions is optimized to produce impressive results.
Repricing and Inventory Management Software
Inventory management tool Restock Pro will organize the inventory aspect of your e-commerce sales activity. They ensure that you aren't stocking too much or too little. Plus, they see to it that your orders are fulfilled in good time. 
Repricing software such as Bqool, Repricer, and Sellery will make use of your pricing rules and boundaries alongside market dynamics to set competitive prices for your products.
Advertising and Marketing Tools
Advertising and marketing software like PPC Entourage, and Nautical Commerce will boost your product's visibility. These tools will help you scout for opportunistic niches when selecting products to sell. PPC Entourage, for example, will do the job of collecting useful resources that are crucial for successful PPC campaigns.  
Analytics and Reporting Software
Software such as DataHawk, ManageByStats, and Pacvue Commerce will help you keep track of your sales performance on Amazon. These tools will also provide actionable insight to help you determine which strategies work and those that don't.
Make More Sales With the Right Pricing and Promotions
Selecting the right pricing strategy is always tricky, least of all on Amazon. Price your product too low and you eat into your profit margins, too high and you might struggle to attract customers.
This is where understanding your target demographics is important. Who makes up your target demographic? How much disposable income do they generally have? Once you understand your target audience, you can go to work building a pricing strategy that plays to them.
Here are the most effective Amazon pricing strategies to consider when selling your products.
Monitor Competitor Prices
This strategy involves doing your market research, identifying your core competitors, and pricing up your products as competitively as possible. This strategy aims to keep your business in contention by offering competitive prices.
Penetration
Ideal for new sellers on the platform or, established players launching new product ranges. The basics of the penetration strategy are to sell at a lower price (often lower than your competitors too) to garner interest and a loyal customer base, whilst increasing prices over time. This strategy often means reducing your profit margin at first with one eye on making back these losses in profit in the future.
Economy
The economy pricing strategy relies on generating low-profit margins whilst driving the sale of large volumes of a specific product. This is a very streamlined approach to product sales with little to no marketing costs required. Good for everyday items such as toiletries or household cleaning items.
Premium
This strategy works well for recognised brands. It involves selling at higher prices that attract buyers because of the brand's reputation. This approach brings with it higher profit margins but may require a larger marketing budget (on the basis that a prospective customer search approach is that of targeting non-branded keywords).
This strategy often goes hand in hand with promotions of quick-fire discounts. 
Below we take a look at some of the best Amazon promotion strategies you can adopt.
Offer Coupons and Discounts
Coupons and discounts are strategies for attracting patronage and keeping your customers happy. This strategy allows customers to receive free items, percentage price reductions, or shipping price reductions. 
Amazon Lightning Deals
Amazon lightning deals are temporary discounts that sellers offer to attract buyers. Lightning deals usually include a limited number of discounts that last for only a few hours. A great way to offload inventory.
Buy One Get One
The age-old buy-one-get-one-free approach. A great option for businesses looking to shift volume and instil brand recognition with their target customer base.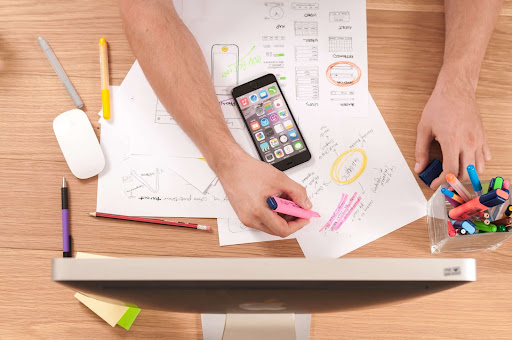 Advertising and Marketing
You're all set up, you've optimised your product listings to the hilt and now you're sitting around waiting for your target customers to stream in, right? Wrong.
Having a targeted advertising and marketing strategy is crucial if you truly want to build a business on Amazon's marketplace. This strategy can incorporate a number of different channels, including various options available via Amazon or, a multitude of offline channels.
Below we take a look at some of these marketing & advertising strategies:
Amazon Sponsored Products
Amazon Sponsored Products offer a cost-per-click (CPC) inspired ads network that promotes a business's product listing across Amazon. These ads appear across related shopping results and competitor product pages. 
A fantastic option if you are looking to generate traffic to a product listing, CPC ads work on the basis that you only pay for that ad if someone clicks on it. 
To find out more about Amazon Sponsored Products, take a look at this handy guide that Amazon has put together.
Amazon Sponsored Brands
Amazon Sponsored Brands (ASB) are not too dissimilar to Amazon Sponsored Products. ASBs differ in that rather than displaying a single product, you're able to display your brand logo, a custom tagline, and multiple products. ASB also operate on a CPC pricing model.
Amazon DSP
With over 2 billion visitors per month, Amazon already generates a lot of digital foot traffic. There is however the opportunity to attract more. Que Amazon DSP (Demand Side Platform), the most recent addition to Amazon's advertising arsenal. 
Whereas the other Amazon marketing products mentioned above target users across the Amazon advertising network, Amazon DSP has been designed to engage audiences off of Amazon, pulling them onto the marketplace. 
Available to any vendor or third-party seller, Amazon DSP opens up a range of possibilities when creating brand awareness and/or retargeting prospective target audiences.
Like other Demand Side Platforms, the premise is simple, advertising slots in the form of mobile ads, display ads, video ads etc. are made available across Amazon's list of partners. You pay to be shown across the multitude of advertising slots available. 
Sounds great right? There's a catch. Access to Amazon's DSP requires a minimum spend of $70,000.
Off-Amazon Digital Marketing Services 
Aside from Amazon DSP, there are other ways to reach new customers outside the Amazon platform. These include: 
Traditional SEO

Influencer marketing

Email marketing

Advertising on social media
Customer Reviews and Ratings
Amazon assumes that lots of positive reviews and ratings attached to a product are indicators of quality. Customers think so too. Therefore, getting customer reviews or ratings is one of the most important tips when increasing sales performance on Amazon.
The problem, however, lies in getting customers to give these ratings. Amazon has since shelved the text review display for the 5-star rating display. While this adjustment makes it easier for customers to drop ratings, only a few respond voluntarily. 
However, several solutions stand out:
The Request a Review Button 
Amazon has a rating request button called the request a review button. You can utilize this button through your Manage Orders page on Seller Central. 
Follow-Up Emails 
Follow-up emails can convey ratings and review requests to customers
Use Incentives
Most times, people will only leave reviews when there is a reward. Note, however, that in order not to break Amazon rules, avoid making ratings a condition for the incentives. 
You can encourage customers to email you for an incentive after a purchase. As you begin to interact with them and build a relationship via email, you can request reviews from them.
Managing Critical Reviews and Poor Ratings
Amazon has installed a feature that allows you to contact customers who have left less than three stars for your products. Amazon first contacts these customers with the hope that they respond. When they do, your business can then continue the interaction. 
You have the opportunity to understand the reasons for the poor review/rating, rectify the issue, and hopefully get them to change their review. Please note, this feature is only available to Brand Registered businesses. 
Fulfilment and Customer Service 
You can boost your Amazon sales by making your customers even happier. One way to get this done is through Amazon FBA. 
Amazon FBA (Fulfilled By Amazon) is an Amazon service that in short, leaves Amazon to take care of the selling process. They go as far as handling shipping, returns, refunds, and even customer service. All that you need to do is send them your inventory which they store in their fulfilment centres. 
The benefits of using Amazon FBA include: 
Prime badge next to your products

Access to

Prime shipping for your products

You get access to one of the largest logistical networks on planet earth

Did we mention they pretty much do it all for you!
Utilise an Account Management Service
Utilising an Amazon account management service like Seller Presto offers means handing over certain Amazon account responsibilities to experts. These professionals have the experience, tools, and networks you require to boost sales for your products and brand. 
With an Amazon account management service at your disposal, you can rest assured that your business is in safe hands. 
There is a long list of services that account management agencies offer. These include:
Store setup

Amazon SEO services

Helping to optimize Amazon product listings

 

Inventory and price management services

Paid marketing management

Customer service and feedback management services

Providing data and insight for accurate decision making
Choosing the Right Account Management Service 
Your choice of an account management service is a crucial one that can decide the trajectory of your business. Therefore, it is important to leave no stone unturned in getting the right one. 
Here are the boxes your account manager should tick. 
Reputation and Reviews 
You would want to check out the track record of any account management service before you hire them. Visit their social media accounts, look at previous case studies and, take note of the reviews left across various review platforms.
Expertise and Experience 
Also, check out their success stories. Find out what they've been able to achieve for previous clients. Look out for experience too. How long have they been in business? 
Range of Services 
They should be skilled and versatile enough to satisfy a wide range of account management requirements. Ensure that you go for a service that can handle all of your Amazon sales-boosting needs. 
Pricing and Contracts
Ensure that their price matches up with your budget. Take a careful look at the contract terms to confirm that they are the right business partner for you.
Seller Presto
Seller Presto is a UK-based, Amazon ads-certified, account management service that takes all the stress out of having an online presence across the world's largest online marketplace.
Services include account management through consultancy, store setup through listing creations, and ads management through SEO services. Our competitive insights platform takes our work one step further, allowing you to peer behind the curtain and analyse your competitor's performance. 
To find out more about how Seller Presto can help, get in touch today.
Thats a wrap folks  
So there you have it, how to increase sales on Amazon using 7 proven strategies. Give your online seller profile the time and attention it deserves, utilise technology to make your life easier, be strategic in your marketing and promotional strategies, and seek advice from Amazon account management services that know what they're doing. 
Resources