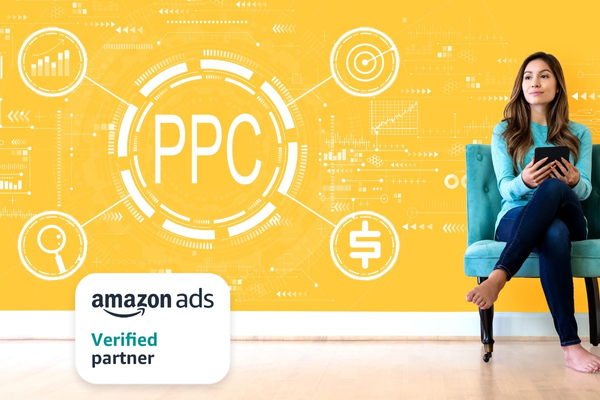 We're thrilled to announce that Seller Presto has just obtained Amazon Advertising Partner status – making us a chosen agency for the world's largest online marketplace. Everyone in our team has undergone Amazon-devised training modules and has now achieved certification for their skills and platform knowledge.
We pride ourselves on being a leading Amazon advertising agency, and that means we're always striving to grow, improve and evolve. Working towards verified partner status not only differentiates us from other agencies, but it ensures that we have our fingers on the pulse when it comes to the latest PPC techniques and helps us deliver the best possible services to our clients.
About the Amazon Advertising Partner Network
If you want to work with the best Amazon agency – and you want to see measurable results – Amazon's Partner Network gives you reassurance and peace of mind.
Launched in July 2021, this network aims to continually develop an international community of agencies and tool providers to help advertisers and businesses hit their targets.
Minimising the legwork for sellers looking to advertise and agencies looking to improve their services, the Amazon Advertising Partner Network provides a whole host of advanced functionality as well as educational, technical and marketing resources, while making it easier for brands to partner with the right providers.
Aby Angilivelil, Director of Partner Development at Amazon Advertising, shared some insight about the programme during its rollout last year:
"The Partner Network and its range of resources is our first step towards helping partners scale their expertise and solutions across all of our advertising products. We'll continue collaborating with partners to help them meet advertisers' business goals, and we're excited by what's yet to come."
Why work with an Amazon Advertising Partner?
There are a number of Amazon partner success stories already, with many brands being able to optimise their strategies and improve return on ad spend (ROAS). Here are some of the reasons working with a verified Amazon partner could be beneficial to you:
Improve brand awareness– by partnering with an expert Amazon ad agency that has undergone Amazon module training, you can find ways to tap into new audiences, increasing the reach of your brand and products.
Get more out of your ad spend– a skilled Amazon PPC agency also knows how to make your money go further. They have access to a range of tools on the Partner Network and can figure out which campaigns are the most profitable for your company.
Right place, right time– to really maximise results from your advertising campaigns, it's important to understand seasonality. This can be used to direct campaigns, further optimising ad potential to increase awareness and boost sales.
Benefit from new tools and features – because partners like us have access to the latest tools and features, we're usually the first to know and we can pass on our knowledge to our clients.
Work with a trusted agency– Amazon's verified partners exhibit the most up-to-date PPC knowledge and are handpicked by the platform as the best agencies to work with.
The Partner Network = better services for you
Amazon is known for prioritising customer experience and user experience, and that is why it has strict requirements when it comes to naming its collaborative partners. When you choose a verified ad partner like Seller Presto, you can rest assured that you'll be working with a company with a high level of proficiency – one that puts you and your customers first.
If you're new to Amazon PPC or you've never found an agency that you trust, the Partner Network can give you the added security you need to get started.
Not advertising yet? Here's why you should!
Amazon is now the third largest digital advertising network, coming only behind Google and Facebook, with a reported $31 billion in ad revenue in 2021. With more than 197 million people across the globe accessing the marketplace every month, it's important to elevate your presence and boost visibility.
Advertising ensures that you get the best placements for your products, reach the right audience and uncover insights to help you optimise your campaigns for next time. It doesn't matter if you have a large or small budget either – it's easy to choose a budget that's right for your business. You decide how much you want to spend, and just £10 a day is enough to create noticeable results in sales.
Ultimately, by expanding your reach and getting your products noticed, you can grow your brand on and off Amazon.
Looking for a verified Amazon ad agency?
Don't have the skills or resources in-house to manage your own advertising? Partner with Seller Presto, a verified Amazon partner and Amazon advertising agency with years of experience. We offer a range of services, such as Amazon account management, Amazon ads management, and expert consultation.
Looking to work with the best Amazon agency to grow your business? To find out more about us and how we can help, get in touch with the team Seller Presto.