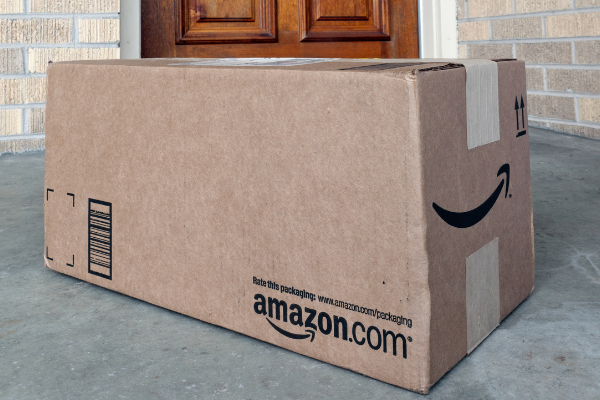 Selling products on Amazon is one of the easiest ways to make money online. The Amazon retail market is the largest in the world, with annual revenue of nearly $470 billion in 2021 (according to Business of Apps) and revenue growth of 7.3% year-on-year in the first quarter of 2022.
While Google remains in its top spot as the world's biggest search engine, Amazon has a 54% market share of product searches. This means over half of internet users now turn to Amazon first when they are looking for a specific product, not Google.
There's never been a better time to become an Amazon seller, and our beginner's guide shows you how to start selling on Amazon with the greatest chance of success.
Why sell on Amazon?
There are 310 million active users on Amazon worldwide, and it's a thriving marketplace for just about every product category. Whatever goods you have to sell, Amazon is the place to get your brand and products seen.
Around 200 million people shop on Amazon each month – and selling products on Amazon is a highly profitable business.
Whether you want to start an Amazon FBA business or you have warehouse space to manage your own distribution, becoming an Amazon seller gives you access to a ready customer base. One of the best things about selling on Amazon is selling under a well-known and trusted marketplace.
Amazon is unrivalled when it comes to customer experience, and by becoming a seller, you'll join a global retail destination where third-party sales are the fastest growing – accounting for 60% of all product sales.
How to get started and become an Amazon seller
With Amazon, you'll be able to sell your products to both B2B and B2C customers from just one single account. This means you can maximise your customer reach without paying any additional fees.
Here's what you need to do and how to start selling on Amazon as quickly as 24 hours:
1) Choose your plan
Selling products on Amazon is convenient and flexible, with two plans to suit your needs.
Suitable if you sell less than 35 items a month, if you just want the very basic selling tools or if you're just starting out.
Suitable if you sell more than 35 items a month, or you want access to advanced tools and reporting functions.
2) Gather your documents
Seller account approval can be as fast as 24 hours, but you will need to have your paperwork in order. You will need the following:
Business mailing address or your Amazon customer account
Company registration details (including VAT number)
A chargeable credit card
A valid passport or form of ID
3) Figure out the costs
Before you create your account to become an Amazon seller, have your finances worked out. These are the costs to bear in mind:
Expect to pay 75p for each item sold on the Individual selling plan – or a flat fee of £25 per month on the Professional selling plan.
Don't forget fees such as referral fees (a percentage of the selling price) or any variable closing fees which may apply to media categories.
Shipping fees or FBA fees
Amazon shipping rates apply when you fulfil orders yourself, or there are fees to pay if you choose to use Amazon FBA.
You may be required to register for a VAT number in European countries depending on the nature of your business.
Using Amazon Seller Central
Once you register and become an Amazon seller, you'll gain access to your Seller Central account. This is a centralised hub for complete Amazon shop management.
Log into Seller Central to do the following:
Add or update product listings using the Inventory tab
Keep track of your inventory and make any necessary updates
Monitor daily sales for every product you sell
Download custom business reports
Access a range of customer metrics to check your seller performance
Open tickets using the Case Log and contact Selling Partner Support
How to list products on Amazon
Listing products is an easy process, but it can be time-consuming, especially if you're new to the platform.
Here's a step-by-step by for how to list products on Amazon:
Match an existing listing (if another seller is already selling the same product on Amazon) or create a new listing (if you are the first or only selling partner).
Have your product IDs ready – make sure you meet the requirements for product UPCs and GTINs (Global Trade Item Numbers).
Think about variation listings – products available in multiple sizes or colours may be best under one listing so consider whether these should be listed together.
Write your product copy – you'll need product information such as product title, product description and bullet points. If you're new to writing product copy, it can be beneficial to have a professional copywriter who can help you promote key USPs.
Upload high-quality product imagery with a plain white background (at least 500 x 500 pixels or 1000 x 1000 for high-quality listings).
How to optimise Amazon listings
Knowing how to list products on Amazon isn't rocket science, but knowing how to optimise Amazon listings so they attract more clicks from your target audience is another story.
Firstly, it's important to conduct keyword research for your Amazon listings. This process can be overwhelming if you're new to Amazon and will require research on relevant keywords, followed by sorting, reviewing and selecting the right phrases for optimisation. This will be based on search popularity and keyword relevance, as well as what your competitors are doing.
Effective Amazon listing optimisation also means making your product description as helpful and informative as possible. It's essential to optimise Amazon listings for humans as well as algorithms. This is why so many Amazon sellers find it beneficial to use professional listing creation services to ensure their products gain maximum exposure.
Choosing the best way to deliver
There are two ways you can fulfil orders as an Amazon seller. You can start selling products on Amazon using Fulfilment by Amazon (FBA) or by merchant fulfilment.
Fulfilment by Amazon
As an Amazon FBA business, you won't need to worry about housing your own inventory. This is fully managed by Amazon for an affordable fee. The marketplace has over 175 fulfilment centres worldwide, each with 150 million square feet of storage. This can often work out cheaper than your own warehousing solution, but the biggest advantage is being able to able to deliver an outstanding customer experience (CX).
Being an Amazon FBA business means world-class customer service, Prime eligibility or Free Super Saver Shipping, and a super easy returns process for your customers.
On top of that, you'll also be able to grow your business internationally. There's now one unified account for selling in European destinations, making it easy to develop your brand identity overseas without any additional costs.
Amazon FBA businesses selling in Europe can save up to 53% in overheads while increasing sales by up to 30%!
Merchant fulfilled
This option means you store and ship products yourself. There's no FBA fee to pay, but Amazon will charge shipping rates for products sold. Rates depend on the product category and also the delivery service selected by the customer.
Managing your Amazon business
Selling your first few items is just the start. There are so many different things to consider in your journey to becoming a successful seller. Effective management of your seller account should involve performance metrics and frequent monitoring. You should also encourage and monitor customer reviews, as these are an integral part of the Amazon customer experience, and the more positive reviews you have, the more it will benefit your business.
Plus, there are endless opportunities to increase sales – including Amazon PPC, selling overseas, and the use of promotions and coupons.
If you want to know how to start selling on Amazon but don't know where to start – or you're looking for support in growing your business – Seller Presto is here to help. We provide a range of services, including Amazon seller account management, ads management, and Amazon seller consultation.
We also offer a complete store setup service for those who are completely new to selling. To find out more about how we can help, get in touch.