Amazon offers unparalleled opportunities for a business to reach a vast customer base, expand its brand visibility, and increase sales. However, navigating the intricacies of marketing on Amazon comes with its own set of challenges. From fierce competition to evolving algorithms and ever-changing consumer behaviour, sellers must understand the potential benefits and obstacles they may encounter. 
In this guide, we'll discuss effective Amazon marketing strategies, exploring their immense potential and challenges to businesses aiming to succeed on this digital platform.
Understanding the Amazon Marketplace
There's no denying that Amazon has revolutionised how people shop online. With giant product selections and unparalleled shipping efficiency, Amazon has become the go-to platform for millions of shoppers worldwide. 
Amazon reports that it has upwards of 300 million active customer accounts and 1.9 million selling partners. With so many sellers on the platform, competition is steep. 
However, Amazon also presents a massive opportunity for e-commerce sellers. In April 2023, the online marketplace had an estimate 2.2 billions visitors globally, of which 345.4 million visited its UK website. Needless to say, it offers businesses of different sizes a powerful avenue to reach a targeted, buying audience.
The Importance of Implementing an Amazon Marketing Strategy
Mastering the art of Amazon's platform has become essential for businesses looking to establish a strong online presence and flourish in the fiercely competitive online landscape. In order to stand out with a competitive edge and thrive on the platform, you can't just wing it; you need to implement an effective Amazon marketing plan. 
Not having a strategic approach can lead to your store going undiscovered. That means lost sales and stagnant business growth. 
With the platform being as popular and competitive as it is, it's important to conduct research on both competitors and customers. Then, you need to use that research to drive and implement effective Amazon seller strategies. 
Some examples of Amazon marketing and business strategies include maintaining your online storefront, committing resources to paid advertising campaigns, putting in place a customer review process, and driving traffic from external sources to your listings. We'll dive deeper into each of these strategies below.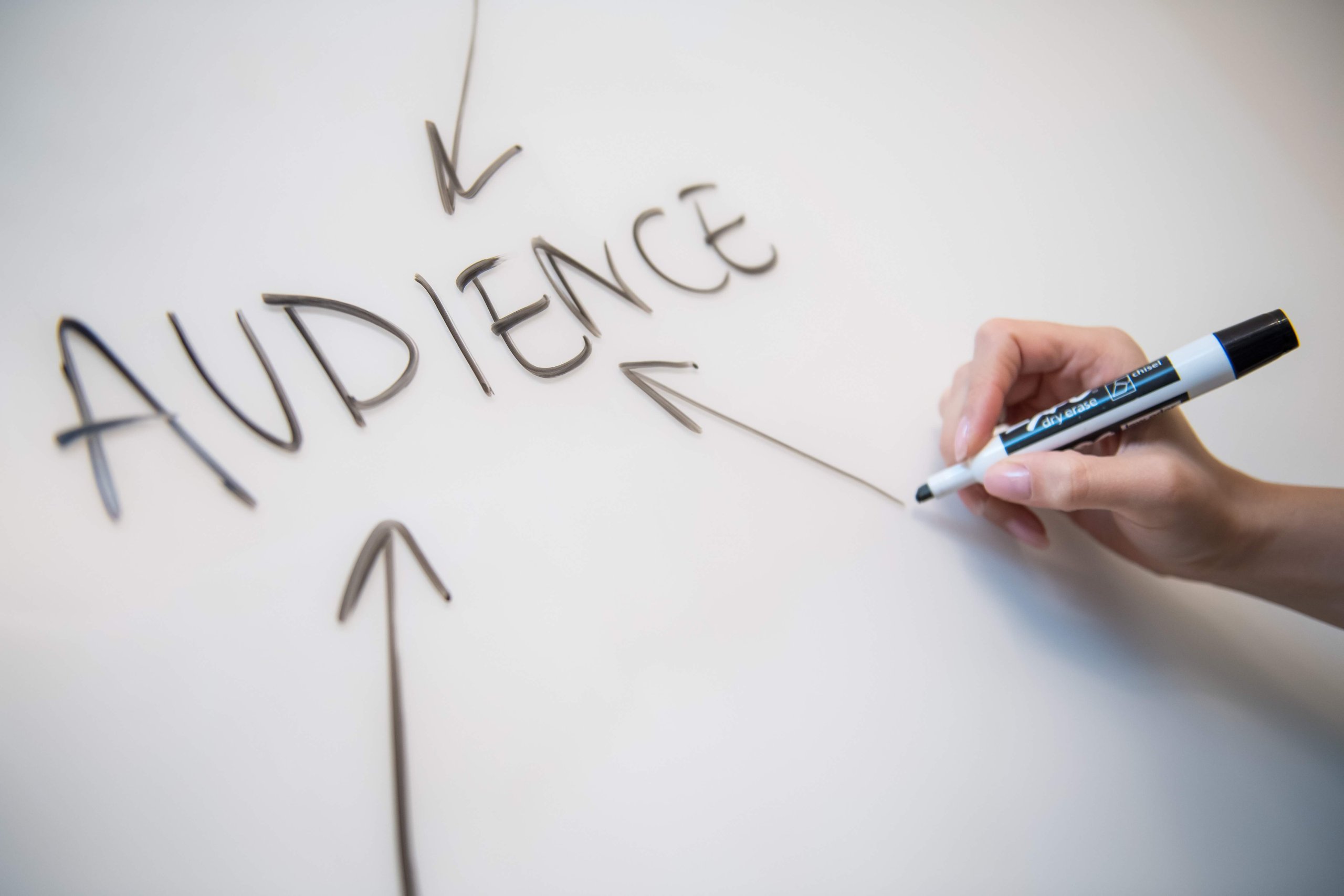 Conducting Market Research
When it comes to devising a winning Amazon marketing strategy, thorough market research can be a cornerstone for success. Understanding your target audience, identifying customer segments, analysing competitor strategies, and staying on top of trends will all be pivotal to your game plan. 
Identifying Your Target Audience
Understanding Your Amazon target market and what drives their purchasing decisions will drive your marketing on Amazon. By segmenting customers based on demographics, interests, buying patterns, and other relevant factors, you can craft personalised marketing messages, optimise product listings, and create targeted advertising campaigns that resonate with your audience.
Analysing Your Competitors' Strategies
Taking a look at competitor strategies is another crucial component of market research on Amazon. Monitoring and studying your competitors' marketing tactics can provide invaluable insights into what works and what doesn't in your niche. By analysing their pricing strategies, keyword targeting, and promotional activities, you can uncover untapped opportunities, differentiate your brand from the competition, and ensure you aren't lagging behind. 
Additionally, keeping a pulse on marketplace trends, such as emerging product categories, changing consumer preferences, and seasonal demands, will let you continuously adapt your strategy and stay ahead of the curve.
Utilizing Amazon's Data and Analytics Tools
It's essential to back your market research with data. Fortunately, Amazon offers a wide array of tools and resources that provide sellers access to valuable insights and metrics. Tools like Amazon Advertising, Brand Analytics, and Seller Central's performance reports can help you gather insights on keyword performance, conversion rates, customer search behaviour, and sales trends. With time, these data-driven insights will also allow you to refine your product offerings, optimise your listing content, fine-tune your advertising campaigns, and improve your overall marketing strategy.
Putting effort into comprehensive market research can help you make informed decisions when moving on to the next step: setting strategic goals.
Setting Strategic Objectives & Goals
As you start crafting your strategy, you will need to set strategic goals. Setting clear marketing objectives will provide a roadmap for your marketing campaigns. 
Objectives act as guiding principles, helping you determine what you want to achieve and how to get there. You'll need to determine and set key performance indicators (KPIs) to measure your progress and success. 
Without clear objectives, your marketing efforts may lack direction and coherence, resulting in wasted resources and lacklustre outcomes. Well-defined objectives, on the other hand, enable you to focus your strategies and make data-driven decisions to maximise your impact on Amazon.
When setting goals for your Amazon marketing campaign, it is essential to ensure they align with your overall business goals. 
Your marketing efforts should support the broader objectives of your business. Whether it's increasing brand visibility, driving sales, expanding market share, or launching new products, your Amazon marketing objectives should be directly connected to your business's long-term aspirations. This leads to a cohesive, integrated approach that reinforces your overall growth strategy.
Here are some examples of general marketing objectives for Amazon sellers:
Enhance brand awareness and recognition
Expand into new market segments
Improve customer engagement and loyalty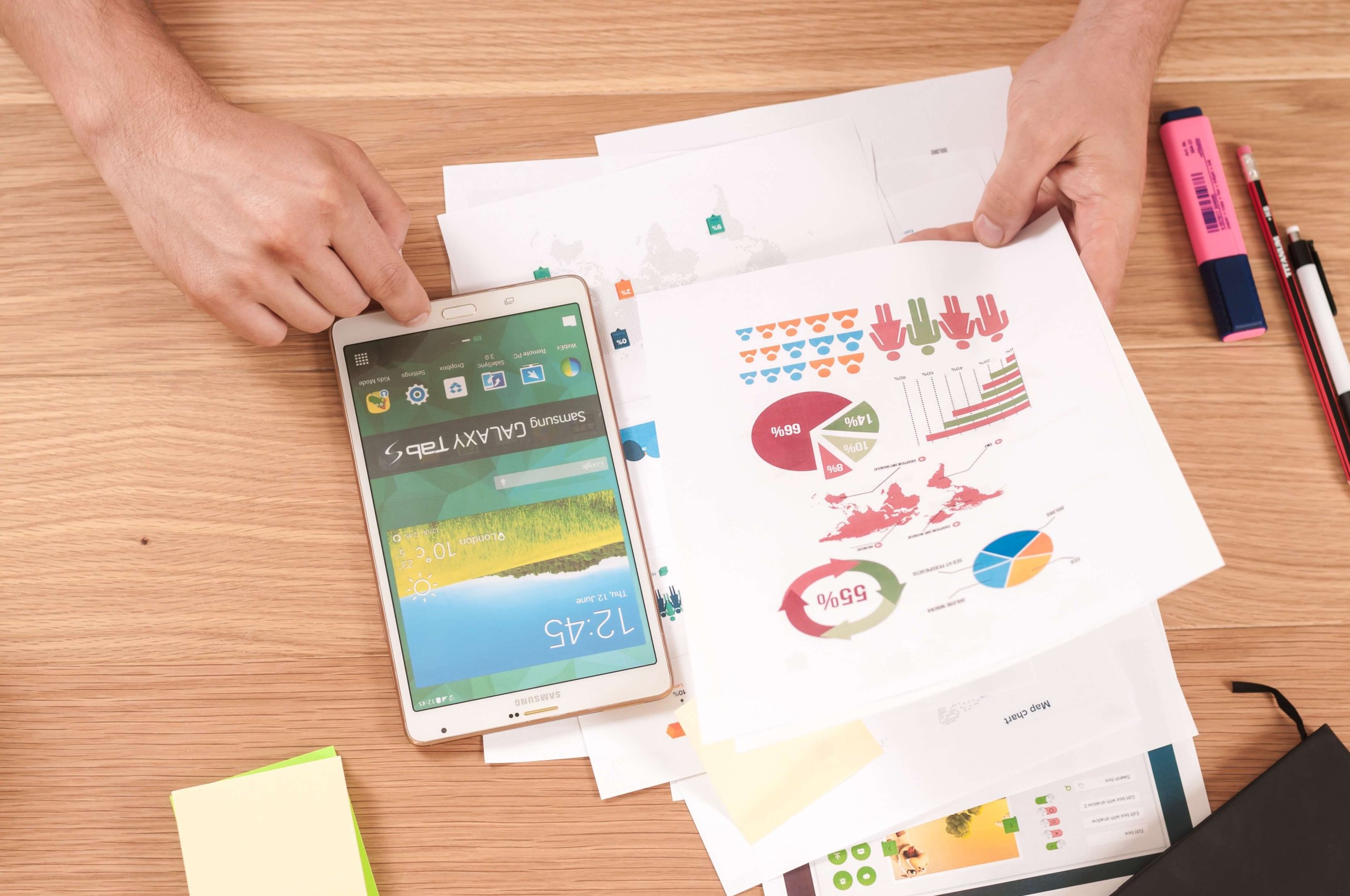 Key Components of an Amazon Marketing Strategy 
Now it's time to finally start crafting your game plan. Here are several important elements to focus on within your Amazon marketing strategy. These all impact how sellers perform on Amazon's marketplace and can't be ignored if you want to succeed on the platform. 
Optimizing Product Listings for Search and Conversion 
It's crucial to make sure your product listings are well-optimized in order to appear in Amazon search results and compel customers to buy. Working on improving your product listings should certainly play a part in your overall marketing strategy. 
Thankfully, there are some clear steps you can take to optimise your listings. 
First, you'll need to invest time in keyword research. This is an essential part of Amazon search engine optimization (SEO). Analyse your competitors, or check out third-party keyword research tools –  like Helium 10's keyword research tool – to identify which Amazon search terms your audience is typing into the search box on Amazon. Then, target these relevant terms by incorporating them into your product listings.
Here are some additional ways to optimise different aspects of a product listing: 
Title:

Create a clear and concise title (under 80 characters) that includes your main keywords. Place the most important keywords at the beginning of the title and include essential information like brand, product type, key features, and size/quantity.

Bullet Points:

Utilize the bullet points in the product description to highlight key features and benefits. Keep them concise, easy to read, and focus on the most compelling information.

Product Description:

Write a compelling and informative product description that highlights your product's unique selling points, benefits, and features. Focus on providing value to the customers and addressing their pain points. You can also incorporate some of your target keywords here. 

Product Images:

Use high-resolution images from multiple angles to effectively showcase your product. Follow Amazon's image guidelines, use professional photography, and include lifestyle images to show off your products' features. Excellent images can convince customers to buy and improve your products' rankings in Amazon search results.

Backend keywords:

Take advantage of the backend search terms you can add to your product listing. Include relevant keywords that didn't fit naturally into your product title or description. 
A+ Content: If you are a registered brand on Amazon, take advantage of A+ Content. This feature allows you to create visually appealing and informative product descriptions, including additional images, charts, videos, and more. This can be enticing for potential buyers, and the better your sales, the better your products will rank.
Description: Here's an example of a water bottle product listing that uses A+ content to display eye-catching and informative product information. Source
Leveraging Amazon Advertising 
Next, let's discuss your Amazon promotion strategy. There are several Amazon marketing tools that, as a seller, you should aim to take full advantage of. Here are some of their main options:
Sponsored Products
Amazon Sponsored Products allows sellers and vendors to promote individual product listings within search results and on product detail pages. Sponsored Products ads work on a cost-per-click (CPC) model, where advertisers pay when a shopper clicks on their ad. These ads can help increase visibility, drive traffic, and boost sales for specific products.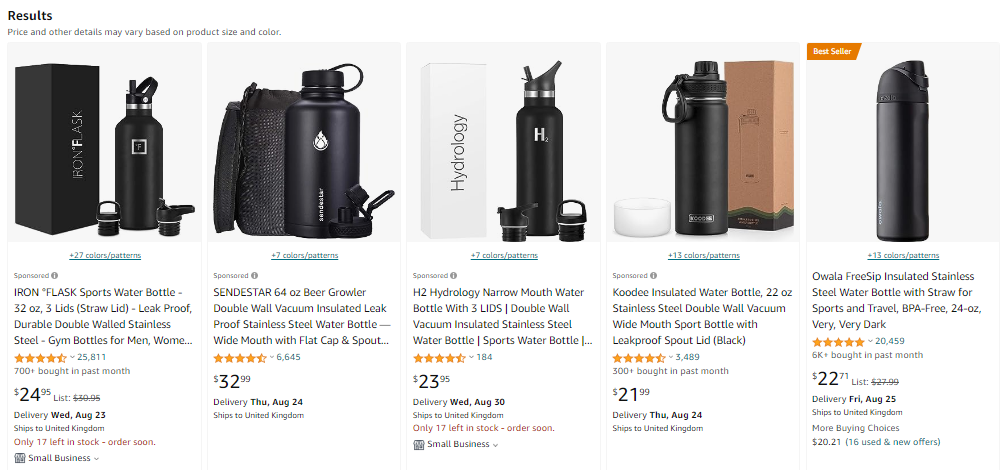 Description: Here's an example of what Sponsored Products look like in Amazon search results for the term "water bottle." The product listings appear first in search results, above the organic results, and are all labelled "Sponsored." Source
Sponsored Brands
These ads allow you to promote your brand and drive awareness to your store. Sponsored Brand ads appear above search results and feature a custom headline, logo, and multiple products. Sponsored Brands ads are designed to enhance brand visibility, allowing advertisers to showcase their brand identity while directing shoppers to their brand page or specific product listings. These ads also operate on a cost-per-click (CPC) basis.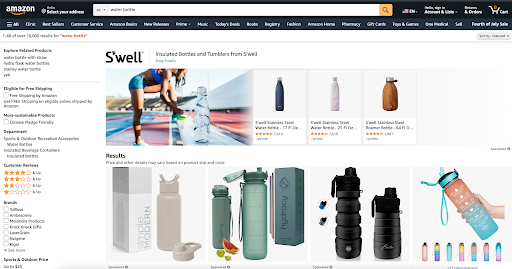 Description:  After searching "water bottle" on Amazon, you can see that a Sponsored Brand ad for S'well appears at the top of the page. This advertisement shows off their brand identity and a snippet of their offerings. Source
Sponsored Display
Sponsored Displays allow sellers and vendors to reach customers both on and off Amazon's platform. Instead of targeting keywords, Sponsored Display ads target specific audiences based on their shopping behaviours and interests. These ads appear on product detail pages, customer review pages, and external websites and apps through Amazon's advertising network. 
You can also use Sponsored Display ads to retarget shoppers who have shown interest in your products. So if a user clicks on your listing but doesn't buy, you can retarget them with a Sponsored Display ad of that listing.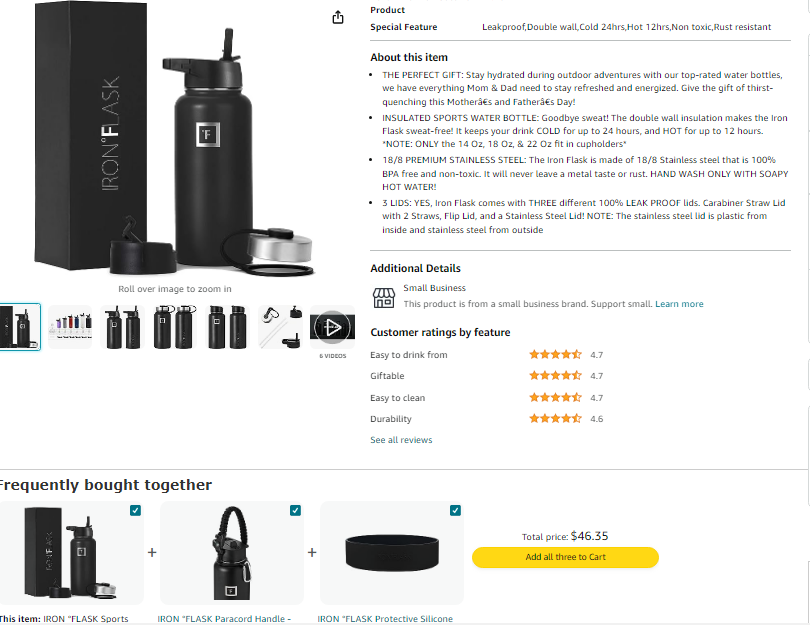 Description: In this example, another water bottle ad appears right below a competitor's product listing. Source
Budgeting and Bidding
When it comes to budgeting and bidding strategies for your advertising campaigns, there are several approaches to consider. 
First off, it's crucial to set a realistic budget that aligns with your advertising goals and overall marketing strategy. You can use a daily or monthly budget cap to control spending. Additionally, leveraging Amazon's automated bidding options like Dynamic Bidding or Bid+, which adjust bids in real-time based on competition and performance data, can help optimise your ad spend. 
It is also beneficial to regularly monitor your campaign performance, analyse key metrics such as click-through rates (CTR), conversion rates, and return on ad spend (ROAS), and then adjust your spending accordingly. 
After testing and refining your bidding strategies, targeting relevant keywords and audience segments, and continuously working on your campaigns, you'll boost the effectiveness of your Amazon advertising efforts.
The world of Amazon paid advertising can be tricky to navigate and a drain on resources if you don't know what you're doing. If you're struggling, it might be worth speaking to a verified Amazon Ads partner like Seller Presto who will be able to build and manage a successful Amazon paid advertising campaign for your business, leaving you invaluable time to focus on other areas of the business. Get in touch to find out more.
Building a Positive Brand Image and Reputation 
Don't ignore your Amazon branding strategy when creating your marketing plan. Building a positive brand image and reputation is essential for success on Amazon.
Here we'll discuss ways to bring a positive brand image to life and maintain a great reputation among your customers. 
Customer Reviews
A 2021 study concluded that customers are reluctant to engage with brands – and products – that have a review that is a 3.3 star rating our less. For those that don't know, review are big business! 
Encouraging customer reviews and managing feedback are key ways to maintain a positive brand image. Engaging with reviews shows both new and old customers that you're dedicated to providing excellent customer service and you care about your customer base. Actively seeking feedback and leveraging it to improve your products or services can also contribute to a positive reputation. 
Here are some tips to consider when maintaining customer reviews to support your Amazon brand strategy:
Encourage Reviews:

Follow up with customers after their purchase through the "Request a Review" button or with a follow-up email. You aren't allowed to ask for positive reviews, but you can neutrally request feedback. Make sure to follow

Amazon's product review policy

when encouraging customers to leave reviews.

Monitor and Report Inappropriate Reviews:

Keep an eye out for any fake or malicious reviews that violate Amazon's community guidelines. If you come across any, report them by clicking "Report Abuse."

Learn and Grow:

Use customer reviews as a source of valuable feedback. Recurring comments in reviews can help you identify areas where you may need to improve your products or customer experience. Take constructive criticism into account and make the necessary adjustments to enhance your offerings.
Amazon Storefront
Creating a beautiful and intuitive Amazon Storefront can help you display your unique selling points, highlight product features, and create a visually appealing and informative brand experience for customers.
Think of an Amazon Storefront as your own dedicated mini store within the Amazon platform. It's a space for you to organise all your products in one place, show off great lifestyle images, and build a consistent brand identity.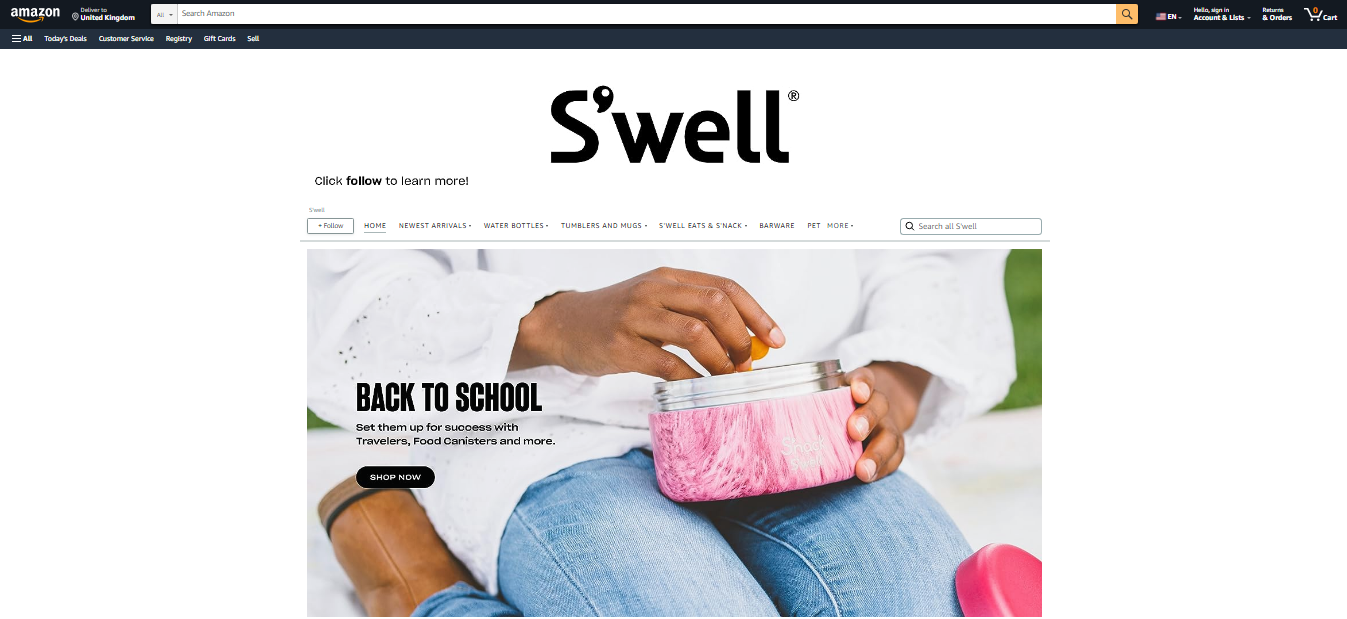 Description: Here's S'well's Amazon Storefront page. High-quality lifestyle images, well-organized product categories, and strong branding all contribute to a positive brand image and, thus, higher sales. Source
Here are some tips for using your Amazon Storefront to build a strong, positive brand image:
Consistent Branding:

Use your brand logo, colours, and fonts that align with your overall brand identity across your Storefront. Consistent branding creates recognition and fosters trust among customers.

Banner and Headline:

Create a visually attractive banner image for your Amazon Storefront that showcases your brand and products. Use concise and impactful messaging to immediately capture customers' attention and invite them to explore further.

Categories:

Structure your Storefront into well-organized categories that make it easy for customers to navigate and find products. Ensure that your category names are clear and intuitive to give customers a great experience. 

Interactive Content and Videos:

Display interactive content like shoppable images and videos to engage and educate customers on your Amazon Storefront. Consider incorporating product demonstration videos, tutorials, customer testimonials, or behind-the-scenes footage to create an engaging experience. 

Brand Story:

Use your Amazon Storefront to convey your brand story, mission, and values. Share information about your brand's history, what sets you apart, and your commitment to quality, sustainability, or other values. This can help you establish an emotional connection with potential customers.

Cross-Promotion:

Your Storefront is a great place for cross-promotion and upselling. Encourage customers to explore additional products from your brand. You can do this by displaying bundle offers, featured or suggested products, or discounts.
If you're struggling with the management of your store, or are struggling with the setup of your store, we're here to help.
Creating External Traffic Channels: Social Media & Influencer Marketing 
In addition to your Amazon marketing channels, you should integrate external marketing channels with your strategy. Creating external traffic channels beyond Amazon is vital for driving brand awareness and expanding your customer base. 
For example, social media platforms offer opportunities for promotion and brand building. Developing an Amazon social media strategy that aligns with your brand image and target audience can help you drive traffic to your Amazon listings. 
Make a plan to share content on your social channels that show off your products, and then provide links to your Amazon product listings or your Amazon Storefront. You can also run contests and giveaways on your social channels to promote your products and drive engagement. 
Collaborating with social media influencers can further increase your brand exposure. You can leverage their credibility and influence to introduce your products to a relevant audience and foster trust in your brand. Influencers can partner with you on sponsored posts, discount codes, giveaways, and brand ambassador programs. 
Keep in mind that you don't always have to reach out to the biggest and most sought-after influencers. Micro-influencers can be more cost-effective and have the potential to connect your brand with more niche, targeted audiences. 
Monitoring and Analyzing Performance 
Continuous monitoring and analysis of your Amazon marketing campaigns are crucial for success. Amazon's reporting and analytics tools can track the performance of your campaigns, measure key metrics, and give you insights into customer behaviour. 
Key performance metrics you may want to monitor include:
Click-through rates (CTR)

Conversion rates

Advertising cost of sale (ACoS)

Return on investment (ROI) 
Over time, you'll start to identify strengths and weaknesses, spot trends, and make more informed decisions to optimise your marketing strategies. 
If you're looking for a deeper level of strategic insights, Seller Presto unparalleled competitor insights service gives you access to unique insights about latest market trends and exclusive insider information. Get in touch to find out more.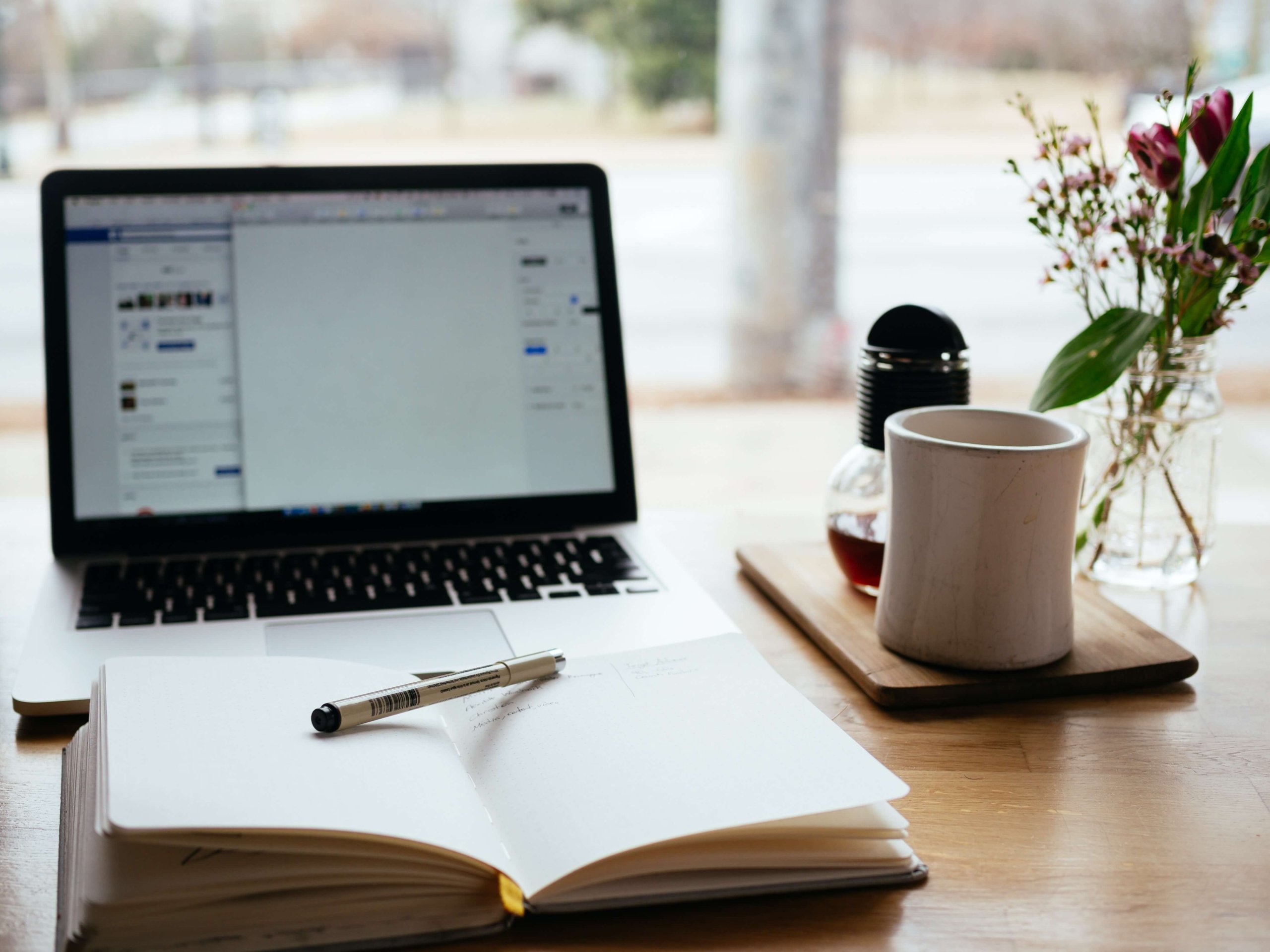 Execution and Implementation
After you devise your Amazon marketing strategy, you'll need to know exactly how to bring it to fruition. Here are some steps to take to implement your strategy. 
Create an actionable plan:

To effectively execute your Amazon marketing strategy, it's important to create an actionable plan. Start by outlining your specific tactics based on your marketing objectives.

Gather your resources:

Identify the tools and resources you'll use, such as Amazon's advertising tools, third-party software, an agency, or an Amazon account management company. 

Set a timeline:

Establish a timeline with clear milestones and deadlines to keep your team accountable. Assign responsibilities to team members or external partners. Make sure everyone understands their roles and expectations. 

Review and adjust:

Don't be afraid to make adjustments to your plan as time goes on and you gather more data. Regularly review and adjust based on market trends, customer feedback, and performance metrics.
In Conclusion
From market research and goal-setting to mastering Amazon's advertising tools, each step plays a vital role in fostering long-term growth. There's a lot to do, but when it's done right, the rewards are well worth it. 
A well-defined Amazon marketing strategy empowers businesses to navigate the complexities of the platform, stay ahead of the competition, and capitalise on its immense opportunities. 
By creating a powerful marketing strategy for Amazon, you will resonate with your audience, cultivate brand loyalty, and ultimately propel your business to new heights. It does take time, so stick at it.
If time is not on your side and you're looking for an experienced pair of hands to manage the success of your Amazon store, get in touch with Seller Presto today. 
Seller Presto offers unrivalled Amazon account management services offering anything from store set up and listing creation, through to ads management, general consultation, and more. Get in touch today.