If you're an e-commerce seller or small business owner, you know that product visibility and customer engagement are crucial on Amazon. Amazon Premium A+ Content can give you a leg up over the competition. 
Whether you're trying to improve your Amazon SEO, amp up customer engagement, or optimise your listings, Premium A+ Content should be on your radar. This capability offers sellers the widest range of customisation options for product listings on the platform. It provides the best opportunity to captivate potential buyers on your product pages and ultimately boost sales. 
Below, we'll explore all there is to know about Amazon Premium A+ Content, including how to get access (even if you have fewer than 15 ASINS), key features, and the difference between Premium A+ and basic A+ Content. Read on to learn how harnessing the potential of this powerful Amazon seller feature can set your brand apart in a fiercely competitive marketplace. 
What is the Premium A+ Content Feature on Amazon?
A+ Content (previously known as Enhanced Brand Content) allows sellers to create more visually appealing and informative product page listings by adding rich media elements such as images and videos. Amazon Premium A+ Content (previously called A++ Content) is an enhanced version of A+ Content that is available to brand-registered sellers on Amazon. 
Premium A+ Content comes with even more features like hotspot modules, image carousels, and larger image capabilities. All of these can help take your product pages to the next level. 
Engaging and informative content can lead to higher conversion rates, as shoppers are more likely to make a purchase when they have a clear and positive understanding of the product's features and benefits. Amazon even claims that Premium A+ Content has the potential to increase your sales by 20%. 
Premium A+ Content vs A+ Content
Here's a full breakdown of the difference between Basic A+ Content and Premium A+ content: 
| | | |
| --- | --- | --- |
| | A+ Content | Premium A+ Content |
| Requirements | Brand-registered sellers | Brand-registered sellers; 15 ASINS with a published Brand Story |
| Visual Modules | Standard images and comparison charts | Larger images, videos, image carousels, and enhanced comparison charts |
| Interactive Modules | None | Hover hotspot modules, interactive comparison charts, and drop-down Q&A modules |
| Images | Standard-size images | Larger image capabilities |
Criteria for Being Granted Access to Premium A+ Content
Eligibility for A+ Content will vary from country to country. However, in the UK, the criteria is as follows: 
All of the ASINs (products) in your catalogue must contain published A+ Brand Stories 

You must have at least 15 A+ Content Project Submissions in 'Approved' status within the past 12 months
How to Get Premium A+ Content With Fewer Than 15 ASINs
Don't have 15 ASINS? Don't worry – there's a way to get around this. If you have fewer than 15 products on your Amazon Store, follow these three easy steps to unlock Premium A+ content functionality.
1. Duplicate ASINs
As the example below demonstrates, you can duplicate an A+ content page, then submit it and that counts as two submissions. When you duplicate a page, save the new product page under a different title to help differentiate the page as two separate products. Do this 15 times and you will meet the requirement for premium A+ content.

2. Submit Pages for Review by Amazon
Next, submit the pages to be reviewed by Amazon at the end of the month. When the duplicate content is submitted, it overwrites the previous version. However, it is still reflected as two pieces in Content Manager. 
3. Get Publishing Your A+ Premium Content
Once the pages are approved, and Amazon has conducted the eligibility review at the end of the month, you will be eligible to start using A+ Premium Content. 

Premium A+ Content Features
Now that you're familiar with the criteria, let's take a deeper dive into all of the various features of this tool, along with some Amazon Premium A+ Content examples.
Interactive Hover Hotspot Modules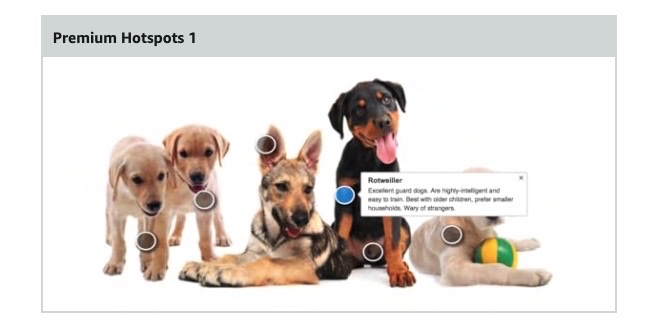 Interactive hover hotspot modules can help engage shoppers and provide a more immersive shopping experience. Users can hover over a product in a lifestyle image to reveal additional information.
Multiple Video Modules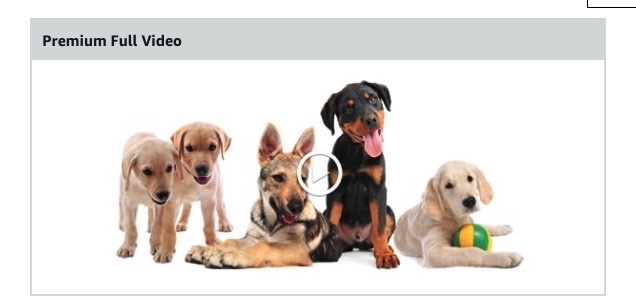 Premium A+ Content allows you to include multiple video modules on a product page, which can greatly enhance engagement and show off different product capabilities. Videos are great when helping buyers better understand your products and form a positive perception of your brand. Plus, any video content created can be distributed across multiple marketing channels.
Enhanced Comparison Charts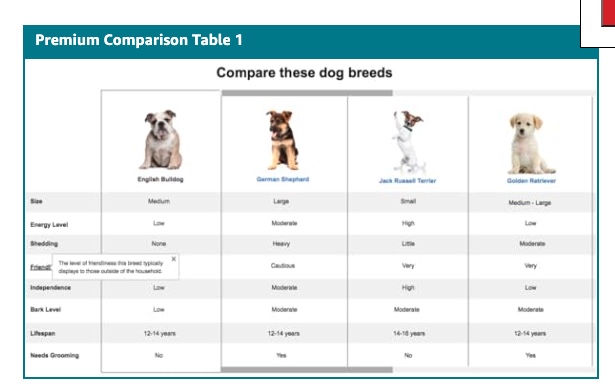 You can also create more dynamic comparison charts that are more interactive than the standard chart format that you can use with Basic A+ Content. Users can hover over specific terms in this comparison chart to reveal more information. This can help them make more informed purchasing decisions.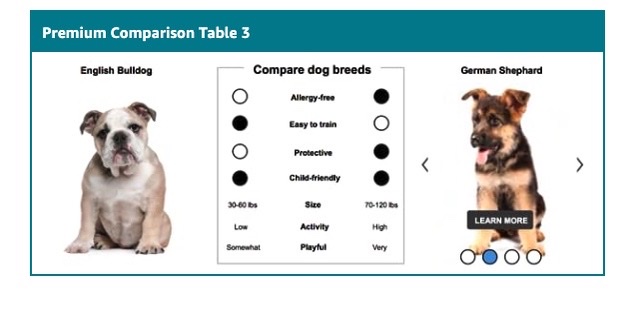 Enhanced comparison charts can also be more visually captivating, helping engage customers.
Larger Images on the Detail Page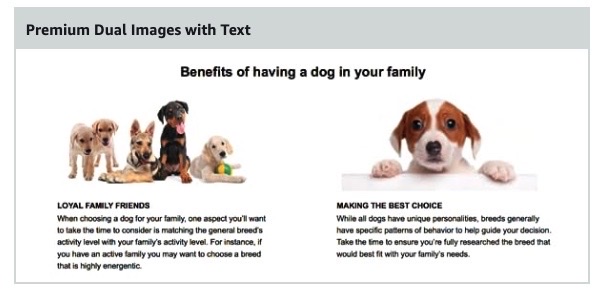 With larger images on your detail page, you'll use eye-catching visuals to stand out from the competition. Large images can let you show off unique product details and highlight lifestyle images that fit with your brand. 
Carousel Modules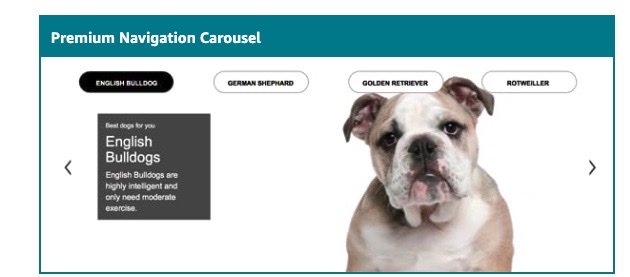 Carousel modules are another interactive feature that allows for more customisation on your product page, presenting yet another opportunity to engage shoppers. 
Premium Q&A Module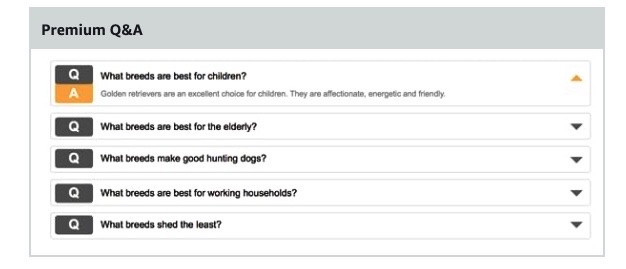 Premium Q&A modules can provide further customisation and make your product pages as useful as possible for potential buyers. A Q&A module is a great place to answer frequently asked questions that you often see on your review pages. 
Seller Presto: A Leading Amazon Marketing Agency
Now you know the importance of Premium A+ Content. Feeling overwhelmed by product page optimization and everything else that goes into Amazon account management? Seller Presto, a UK-based Amazon ads-certified account management service, can help. 
We know the challenges of standing out in the world's largest marketplace. We help businesses with everything from account, SEO, and ads management to store setup, listing creation, and competitive insights. With our team of experts at the helm, we help online stores maintain a strong presence on Amazon. To see the difference, reach out today.
Signing Off
Premium A+ Content is one piece of the puzzle when it comes to a strong Amazon marketing strategy. High-quality content can differentiate your products from competitors and attract more customers to your listings.
Unlocking the power of Premium A+ Content can be a game-changer for your online store, offering a better customer experience and enticing prospective customers to buy. Knowing how to get around the 15 ASIN criteria and gaining access to the major features of Premium A+ Content can help you get a leg up on Amazon's platform.
Seller Presto can help your business thrive. Discover today how an Amazon account management partner can help you reap the benefits of a strong, streamlined Amazon store.